Whats Happening
Parents join us on Wednesday, April 20, 2022 at Noon for PSSA discussion. See link below:
https://philasd-org.zoom.us/j/97166421425?pwd=MkY4aU9zZ0RvaUJoUlhvN3BGeW8yUT09
Soul Food Community Dinner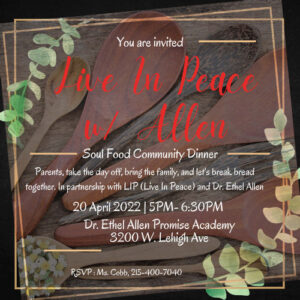 Parents, Dr. Ethel Allen is collaborating with Live In Peace (LIP) community organization to host a community dinner for third Wednesday of each month for April, May and June from 5PM – 6:30PM.
We would like to offer the dinner for up to 200 guests each month with the hope to grow the experience. Parents, take the night off, bring you kids and family members to break bread with your community.
Meal: Fried and Baked Chicken, Baked Macaroni and Cheese, String beans, lemonade and cake for dessert.
Interest: RSVP using the link, or call Ms. Cobb, SISL (215)-400-7040.
https://docs.google.com/forms/d/e/1FAIpQLSdsbJdsXrsS7hXp_se-XcQIGzRQMZXhkFGpd2IuQUXurdP2hg/viewform?usp=sf_link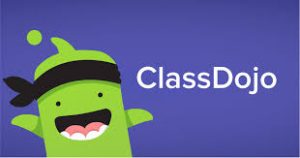 Parents please sign up for Class Dojo to open a communication link with your child's teacher
Message from the Principal

Dr. Ethel Allen is currently in search of new leadership. The interview process is currently being led by the Assistant Superintendents office. Candidate selection is planned for conclusion prior to the end of the school year. We appreciate your patience and support during our time of transition.
Our Mission
It is our mission to provide the highest quality of education to all students in a safe, secure, and positive learning environment.  High expectations and supportive school structures are essential in meeting students' needs academically, socially, and emotionally.  All staff members have an integral role in assisting with the developmental growth and the establishment of a culture for learning. Parents, guardians and community partners have an essential role within the school community.  Students will become life long learners as they go on to high school, college, and/or receive post secondary training to become productive citizens.
Our Vision
Every student will have a strong foundation of academic, social and emotional skills through a culture of inclusion, belonging and dignity that will allow them to not only attend the High School of their choice but be successful graduating in 4 years of college and/or career ready.